GST Fusion Protein Purification Kit
Brand:
Genscript
Product Code:
L00207
Availability:
In Stock
Price: $152.90

GST Fusion Protein Purification Kit
Description:
GenScript Glutathione Resin (L00206) is an affinity chromatography medium designed for easy, one-step purification of recombinant glutathione S-transferase (GST) fusion proteins and other glutathione binding proteins expressed in E. coli, insect cells and mammalian cells. The recombinant GST fusion proteins can be purified directly from pre-treated cell lysate using Glutathione Resin. It is the excellent choice for high performance purifications. Table 1 lists the main characteristics of Glutathione Resin.

The GST Fusion Protein Purification Kit (L00207) also includes five disposable columns and five 0.154 g samples of glutathione to facilitate protein purification.

GenScript Protein Expression and Purification Kit (L00208) provide all the major reagents and materials for the cloning, expression and purification of target protein. The target protein is first expressed as a GST fusion protein in E. coli using the GenScript expression vector pGS-21a. The GST fusion protein is bound to a column packed with GenScript Glutathione Resin (L00206) and then eluted with reduced glutathione. Finally, to obtain the tag-free target protein, the purified GST fusion protein is digested with recombinant porcine Enterokinase (EK) to remove GST tag.


Key Features:
Easy to use: Simple and fast procedures for purification of GST-fusion proteins.
High capacity: The system can support over 20 mg horse liver GST/ml medium.
Stability: This reusable resin shows no obvious decrease of the binding capacity after three uses.
Examples: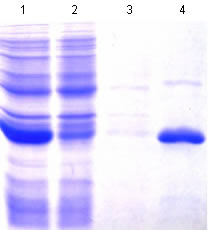 Fig.1. Purification profile using GenScript Glutathione Resin. Whole proteins (Lane 1) were passed through the resin. The flow-through (Lane 2) contains most of the whole proteins. After wash (Lane 3), GST protein (Lane 4) was eluted.









Technical Manual
Components
| | |
| --- | --- |
| Glutathione Resin | 10 ml (20 ml of 50% slurry ) |
| Columns | 5 empty columns |
| Glutathione, reduced | 5 X 0.154 g |
Document